US Employees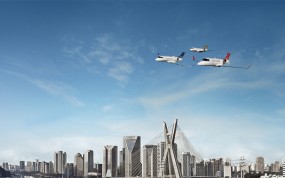 We will have reached our vision: Giving People Wings, around the world, through innovation, pride and setting the highest standard for excellence, when we have reached the following outcomes:
Employees
The engagement of all of our employees is key to our success. By giving our employees wings, we:
• Offer a unique environment where individuals grow as part of multidisciplinary teams engaged in continuous improvement.
• Broaden business acumen, creatively expand limits and pursue professional development.
• Nurture growth, spark engagement and inspire a winning attitude.
Customers
Our customers are the main focus of everything we do. By giving our customers wings, we:
• Serve their needs and widen their business horizons with outstanding solutions, products and services.
• Establish trusting relationships by acting proactively and honestly.
• Provide an unrivaled total and amazing customer experience, which breeds pride and loyalty.
Suppliers
Our suppliers are essential to our success. By giving our suppliers wings, we:
• Build rewarding partnerships, which allow our respective businesses to prosper.
• Establish relationships based on trust and respect.
• Secure innovative technology and competitive life cycle costs.
Investors and shareholders
We rely on the continued commitment of our shareholders and investors. To give them wings, we:
• Generate value and growth for sustained return on investment.
• Lead the business to competitive excellence.
• Optimize company assets.
Communities
In communities where we operate, we give people wings by acting as responsible corporate citizens. We:
• Promote sustainable products and operations as well as integrate sustainable development principles in our business behaviours.
• Provide an exciting and fulfilling source of employment and contribute to economic growth.
• Act as leaders in the communities where we operate.